Field Features
Careful attention to detail and exemplary cooperation and support from the Chicago Cubs organization will make it possible for Little Cubs Field to closely mirror its inspiration: Wrigley Field, the home of the Chicago Cubs since 1914 and the second-oldest park in Major League baseball. From the dugouts to the scoreboard to the ivy (grown from actual Wrigley cuttings), Little Cubs Field is a fitting tribute to the legendary "friendly confines."
The only replica of Wrigley Field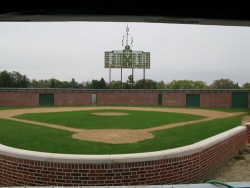 Little Cubs Field is a magical place for baseball-related events. It has been built to the exact scale of Wrigley Field, but smaller…100 feet down the foul lines and 112 feet to the center field fence. A few of the over 30 replicated features that will wow visitors include:
Our Ivy was planted Oct. 8th, 2007 By Marya Veeck, daughter of Bill Veeck, (who planted the ivy at Wrigley Field.)
Ivy-covered brick for outfield walls (made from actual Wrigley Field ivy cuttings)
Foul poles complete with flags of Banks, Santo, Williams, and Sandberg, Jenkins and Maddux.
The traditional hand-operated centerfield scoreboard with flags, pennants, and the clock on the top works
A basket over the outfield walls
The brick outfield walls replicate the curvature and undulations of Wrigley Field in Chicago
Traditional green doors
Authentic-looking dugouts, both inside and out…as if Lou could walk out at any moment
A carbon copy of the famous admission sign
Natural grass infield and outfield, including some sod and dirt from Wrigley, compliments of the Chicago Cubs.
There are corporate naming rights available for the left and right field bleachers—call 815-235-5318, Denny Garkey, for details.
A sound system/public address system, with 220 power capability, to allow for concerts and other entertainment-oriented events
A hand-painted mural of a crowd scene below the center field scoreboard.
Sheffield and Waveland Avenue street signs/walkways at appropriate locations
And perhaps the best feature of Little Cubs Field?

No one will be allowed to leave without having fun!